Super Certified Angus Beef® Tenderloin Sliders
Ingredients 
Instructions
Preheat grill, grill pan or cast-iron skillet to medium/high heat. 
Coat petite filets all over in black powder rub. Oil grates of grill to insure no stickin'! Sear for about 3-5 minutes.
Place filets on the grill and do not move them! Let that sear happen, k?
Meanwhile, place half of cheese sauce into small sauce pot and heat on low, very slowly, while stirring. Do not scald!  
Flip tenderloins and let sear for 3 minutes. Then check internal temp with instant read thermometer.  Aim for 125 F for medium rare, my ideal temp for this beautiful steak.
Heat a non-stick skillet or grill pan to medium/low. Split Hawaiian rolls in half, from top to bottom.  Place butter in pan and let melt. Place buns cut side down and griddle in the butter until golden brown.
Once steaks are done, let rest for at least 3 minutes.  Place on bun, top with cheese sauce and desired amount of Mauro Provisions Craft Giardiniera.
shop the kit
Want to make this yourself? Get the matching kit!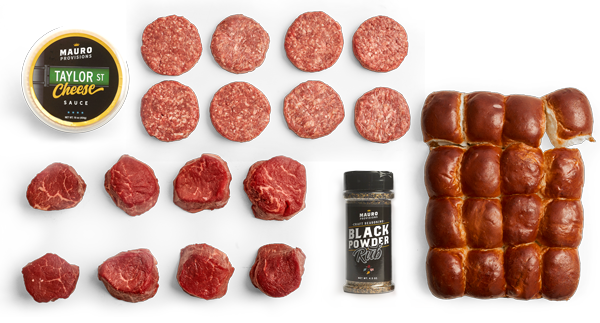 Super Slider King Kit